One area of David's work is dedicated to news gathering and revealing something of the World, the other helping to create images that will help publicise what should be a finished work of artful fiction. In the end it's about building a narrative in order to tell a story. Whether it's covering the real World or working on a film set, the required skill set is similar. Knowing when to push for a shot and when to stand back are all skills an experienced news photographer has. This is why I believe that photojournalists make good on-set stills photographers. David will share these skills with you at Photo Live!
From David "It has been a privilege to have spent most of my working life looking through a camera. Apart from war, climate change, pandemics, dodgy leadership, sectarian violence, poverty and racism………… life is good. It is what it is."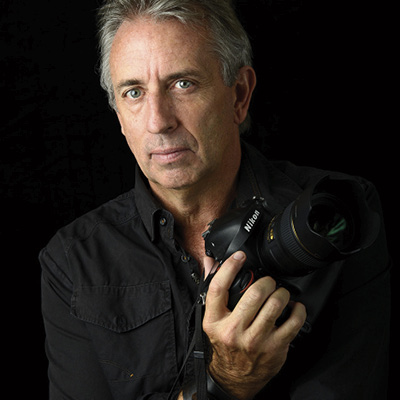 A Walkley Award winning photojournalist, David Dare Parker has photographed for many national and international magazines. Publications include LeMonde, Stern, Australian Geographic, The Bulletin, The New York Times, Fortune, The Guardian, Bloomberg and TIME Magazine. He is featured in the Australian War Memorial book 'Contact' – Australian War Photographers and WAR: Degree South. Recent projects include coverage of Timor-Leste's struggle to gain independence and Indonesia's first steps towards democracy. In January 2002 he was asked to co-ordinate a safety awareness course for Afghan Journalists in Peshawar, Pakistan for the International Federation of Journalists. During April and May of 2003 he was the Official War Photographer for the Australian War Memorial during Operation Falconer in the Middle East, the first time an Official Photographer had been assigned by the AWM since the Korean War. During 2004 he was appointed journalist in residence at Murdoch University. He has also worked extensively in film, television and the performing arts. Clients include Perth Theatre Company, Black Swan Theatre, the WA Opera Company, Bell Shakespeare Company, ABC TV and Film Australia. As a film industry production stills photographer, recent credits include Mystery Road Series 2, Blueback, Cloudstreet, Underbelly Razor, Underbelly Badness, Redfern Now, An Accidental Soldier, Bikie Wars: Brothers In Arms, The Turning, Son of a Gun, Kill Me Three Times, Paper Planes, Love Child 2, Hiding, Down Under, Jasper Jones, Whiteley, Breath, Rams, I Met a Girl and H is for Happiness. He is a co-founder of Australia's Reportage Festival, was a Director of FotoFreo Photographic Festival, a Walkley Advisory Board Member and an Ambassador for Nikon Australia. He is a member of the collective °SOUTH and the SMPSP: The Society of Motion Picture Stills Photographers. Recently he won the documentary category at the 2018 Australian Photography Awards and the Best Feature Photographic Essay at the 2018 WA Media Awards.