Award winning Sport Photographer Manuel Goria join us to talk to you about his career in professional sports imaging. Find out about his favourite gear and what it takes for him to produce images for racing teams Renault, Venturi and Nio just to name a few!
During this session I will guide you through what to bring to an event, what is the right equipment and when to use it for different type of shots and situations you will encounter.
I will show you some of the techniques to get those perfect images that will make you stand out from the crowd. I will talk about safety and how to make sure you are at the right place at the right time. Without a doubt this session will teach you something new to move forward in your motorsport photography career!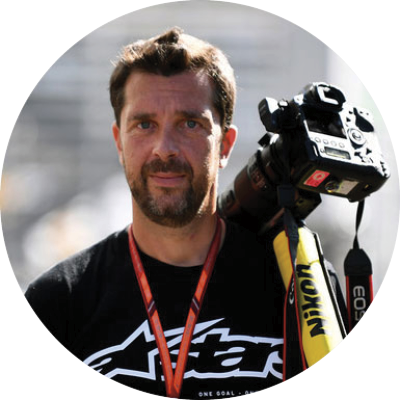 Born and raised in Italy, I moved to Australia in 2004 holding a degree in Veterinary Medicine and specialised in Horses
With Photography and cars always been my passion I started to photograph racing at local events and worked my way up until I scored a job at the F1 Grand prix in Melbourne in 2010 shooting for Ercole Colombo, Ferrari's photographer since the early 70's
For the next 2 season I worked for him and then in 2013 I started working as a freelance with a season contract for Sutton Images.
In 2014 I also started working as team photographer in Formula E for Dragon Racing, Renault, Venturi, NIO and Techeetah, Personal photographer to Nelson Piquet Jr, Salvador Duran and Jean Eric Vergne
In 2016 I was awarded Western Australian Sport photographer of the year and the same year runner up as Australian Sport photographer of the year.
For the 2018 F1 season I was Team Photographer for Sauber Alfa Romeo F1 Team with Charles Leclerc and Marcus Ericsson
At present I am the official photographer for Ferrari Challenge Asia Pacific and also working in studio here in Perth.